Muhi Mikdad
THE LONDON ENTERPRISE ACADEMY (LEA) Ambassador Celebration Ceremony 2021 took place on 3rd December at the school campus. The award recognised many students and congratulated the pioneer alumni of the Academy. Although it is a relatively new school, the LEA has a tremendous amount of success to share with the community.
Guests attending the ceremony included Ataur Rahman (barrister and Chair of the Greater Sylhet Council); Faruk Miah MBE; Shah Muhmud; Peter Mann, School Governor; London Bangla Press Club President Emdadul Haq Chowdhury; Channel S founder Mahee Firdous; Tower Hamlets Councillor Shah Ameen; Newham Councillor Ayesha Chowdhury, community activist and journalist K.M. Abu Taher Chowdhury; Channel S Head of Programmes Farhan Khan; Sirajul Chowdhury; Sydea Chowdhury; Mohib Chowdary; Senior Vice President BCCI, Mr Hassan; Muhi Mikdad; Director of London Sportif; Emdad Ahmed, community leader; Mr Hassan, Somali community leader; and LEA Principal Ashid Ali.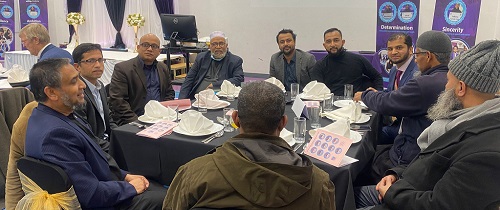 Parents and students also attended the event and heard the welcome news that most of LEA's pupils have completed college and have already started university. There was a special award for author Jaria Mirza, and for Olympian Junayna Ahmed.
Speaking after the ceremony, Ashid Ali, Principal of LEA said, "We are extremely proud of the immense hard work and success of our students and are delighted to know that many of them have moved on to top universities and institutions."

The difficult times experienced over the last twelve months haven't stopped LEA achieving unprecedented results with this year's GCSEs. Pupils did well, with a 100% pass rate in Biology, Chemistry and Physics at grade 5 and above. Other subjects –including maths, English, computing, history and economics – also showed outstanding performances. Many former students have secured places at top universities such as Queen Mary University of London, Imperial College, UCL and King's College.
●To catch up with the news in East London, go to:
East London News
●Watch East London's weekly news magazine programme,
live at 10pm every Tuesday and on demand all week:
The Tuesday Show